How does it work?
Afterpay offers instalment plans for online shoppers.
Now available on Nina's products up to $2,000, you can buy what you want today and pay for it in four, interest-free instalments.



1. At checkout, select Afterpay as your payment method
Afterpay allows you to use your own existing payment card. As long as you're over 18 years of age and are a resident of the country offering Afterpay.

2. Simply follow the instructions and complete your checkout
With no complicated application forms, Afterpay's proprietary platform makes it quick and easy to get approved and keep shopping.


3. Pay for your purchases over 4 simple instalments
You'll pay for your purchase over four instalments, due every two weeks. Afterpay makes it simple to pay when it suits you best.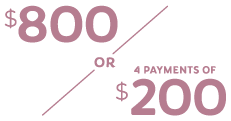 Sparkle now. Pay later.
The payment platform allows you to purchase in four instalments, due every 2 weeks. For example, if you purchase an item for $800, you will pay it in four smaller instalments. There is no additional cost to use Afterpay so long as you pay on time.
What can I buy?
You can use Afterpay to purchase Nina's treasures upto $2,000. Start shopping now!
The essentials
You'll need a credit card and must be over 18 years of age.
You'll also need to be a resident of the country offering Afterpay.
More information
Late fees and additional eligibility criteria apply.
For complete terms visit the Afterpay webpage: www.afterpay.com/terms