Winner computer aided design award 2008
Liana Coetsee
Age: 23
Piece: Global Translation
Employer/ Business: Nina's Jewellery
industry experience: "I started my jewellery career in South Africa seven years ago where I helped my cousin in a store called "Die Goudsmid" ( The Goldsmith). Here I did some basic training and became familiar with designing. I really loved what I was doing and decided to take it up as a career. I studied at the Tswane University of Technology for three years, achieving my diploma in Jewellery Design and Manufacturing. This included courses in art history, business skills and gemology. I also completed a course in Rhino 3D.
I got a job at Deonne le Roux Jewellers in Pretoria, one of South Africa's leading jewellers, and learned more about designing and Matrix. To broaden my horizons and pursue a dream of living in Australia, I started looking for a position. Steve turner of Nina's Jewllery heard about me through the grapevine and gave me a call. I got the position as designer at Nina's- they sponsored my move to WA and I'm currently still working at Nina's Jewellery in Dunsborough.
Here I've got the freedom of design and expressing my creativity as I did in the JAA competition piece. Nina's supports me and everyone works together as a team."
awards and accolades: This is the first.
design inspiration: It was inspired by the statistics from Al Gore's film, An Inconvenient Truth, Each individual piece represents the whole earth in half a millennium, taking into consideration global warming and water levels rising, yet causing continents to become smaller.
Diamonds bring joy to those who wear them while being part of capturing and containing carbon for an eternity. The river of neoprene is ever-present running through the centre of the earth, representing the products we use and the challenges we can overcome to fight this environmental crisis.
unique feature: It is a truly innovative design relevant to issues that society is currently confronting.
Runner-up in belle of the ball category of agr matthey next generation jewellery design awards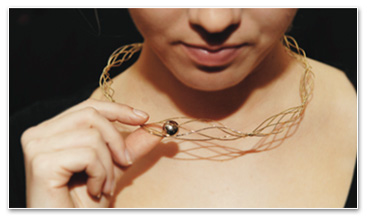 "COCOON",a neckpiece by Nina's apprentice Marita Bilsby was awarded runner-up in the Belle of the Ball category of the prestigious AGR Matthey Next Generation Jewellery design awards.
The awards, run by Australia's largest gold jewellery manufacturer AGR Matthey, recognise excellence and innovation in the area of gold jewellery design and aim to develop young talent ensuring the availability of unique jewellery in Australia.
Marita completed the neckpiece, a gold wire frame that twists like a hollow rope to form "cocoons" around the neck and contains a white gold sphere, while still a student at Central TAFE.
Top honours in gold category of JAA awards 2004
In September 2004, Mark Blyth from Nina's in Dunsborough took top honours in the Gold category of the prestigious national Jewellery Association of Australia (JAA) awards.
As the only national awards for the industry, this biennial event recognises excellence in craftsmanship and design in eight categories from opals to diamonds. Jewellers are expected to hand create original entries using Australian materials.
The association's CEO John Howie believes the awards gives Australian jewellery designers and apprentices the opportunity to demonstrate that our industry is able to hold its head high with the best in the world. "Once again we dared them to shine and shine they did," he said.
Mark's win has spurred him on to enter more competitions here and abroad and he believes Australian designers are among the best in the world. "It's unfortunate that some people still look to European designers as the leaders in jewellery fashion when we have such awesome talent right here in Australia."
Aptly titled "Mountain Twilight", Mark's 18 and 22-carat gold bangle features pink and white Argyle diamonds. The gold captures the contour of the Stirling Range's shadows and ridges while 1.83 carats of pink and white diamonds capture the stars. The piece was fashioned over 100 hours with the support and assistance of Nina's principal craftsman and company CEO, Steve Turner.