DIAMOND CERTIFICATION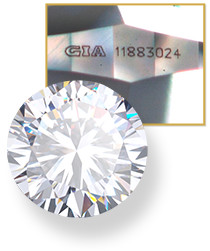 Quality you can trust
There is no gemstone quite like a diamond. Each is unique, yet each share certain qualities that allow them to be objectively evaluated and assessed.
Nina's search the great diamond houses of the world for superior stones. Every diamond is hand selected by our experts for quality and beauty. Most diamonds over 0.5 carat are certified by the Gemological Institute of America and come with a unique certification code and a GIA Diamond Grading Report.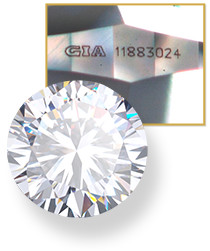 ---

The Gemological Institue Of America
The GIA is the world's foremost authority in gemmology. It was established in 1931 as the non-profit, educational resource for the gem and jewellery industry.
The Institute's aim is to provide the industry and the public with an independent, objective opinion regarding the quality of the diamond. Each stone submitted for certification is carefully checked by numerous professionals to ensure maximum accuracy and grading consistency.
GIA developed the first internationally accepted Diamond Grading System with unbiased opinions regarding the quality of polished diamonds by applying uniform criteria to their grading and the revolutionary 4Cs of diamond value (carat, colour, clarity, and cut). It also introduced the foremost diamond report, setting the standard for diamond quality documentation around the world.
---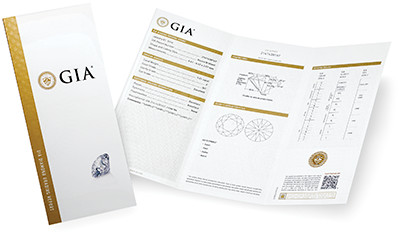 What is a diamond certificate?
The GIA Diamond Grading report means the diamond is evaluated, measured, and scrutinised using trained eyes and optical magnification.
A completed certificate includes an analysis of these characteristics:
Shape and Cutting Style.
Measurement - dimensions in millimeters.
Carat Weight - weight of a diamond to the nearest hundredth of a carat.
Colour Grade - assesses the absence of colour in a diamond.
Clarity Grade - determined under 10x magnification.
Cut Grade - determined by face-up appearance, design and craftsmanship.
Finish - grades that represent a diamond's surface and facet placement.
Polish - rating the smoothness of the surface.
Symmetry - the shape, alignment and placement of a diamonds facets in relation to one another.
Fluorescence - colour, and strength of colour when viewed under UV light.
Comments - any additional diamond characteristics.
Clarity Plot - a map of the approximate size, type, and position of inclusions.
Proportion Diagram - A map of the diamond's actual proportions.
The GIA's reputation, and an accompanying GIA Diamond Grading Report, ensures that a decision to invest in a diamond can be made with peace of mind. The foremost experts in the world have assessed the gem on an objective basis and documented its characteristics, allowing purchasing confidence.
---
Check your report
GIA reports represent the highest standard of reliability, consistency and integrity.
You can quickly and conveniently confirm that the information on your report matches what is archived in the GIA report database providing you with an additional level of assurance. You can also download a copy if you need it for your records.
Check the database:

Other certificates
There are other kinds of highly regarded diamond certification to be on the lookout for.
For more information on Argyle certification and Delta origin certification, read on here.