diamond guide
how to select the diamond that is right for you
EVERY DIAMOND IS UNIQUE AND VERY SPECIAL.

About two tonne of ore is mined for each carat of rough diamond. So, given no two diamonds are exactly alike, when searching for the Nina's diamond that's just right for you, there are a few things to consider. You will often hear about the 4C's when talking about diamonds. They are the classic features that can be objectively assessed to determine the quality of a diamond. They are CARAT, CLARITY, CUT and COLOUR. At Nina's we have added another two C's to help you choose the one that is perfect for you. These are CERTIFICATION and COST.
Allow us to guide you through these aspects to help you find your diamond.
---
carat

A diamond's weight, and therefore its size, is expressed in carats.
In ancient times merchants used the carob seed as a base unit of weight when assessing diamonds. This unit of measurement has become what is commonly known as a carat, and has a weight of 200 milligrams. For diamonds under one carat, each carat is divided into 100 points, like cents in a dollar, 0.5 carat is 50 points (The scale shown here is indicative only.) The larger the diamond the rarer it is found in nature, and usually the more expensive it is to purchase. But size is only one of the considerations.
clarity
BECAUSE THEY ARE FORMED UNDER IMMENSE HEAT AND PRESSURE, EACH DIAMOND HAS TINY BIRTHMARKS CALLED INCLUSIONS.
Like fingerprints, they make each stone unique. It is possible to see some inclusions with the naked eye, but others are difficult to see even with magnification! A diamond of exceptional clarity has minimal inclusions to interfere with the passage of light through the stone. The less inclusions usually means a more expensive diamond.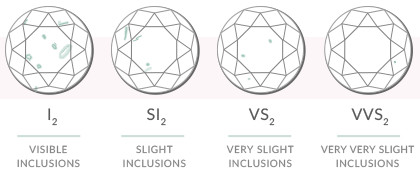 ---
colour
THE DIAMOND COLOUR THAT YOU PREFER IS CERTAINLY A VERY PERSONAL CHOICE.
It wasn't that long ago that people thought that the best diamonds were white, and the less colour tint in the stone the more valuable.
Colour grades are determined by comparison to a master set. Each grade represents a step on the colour scale and is a measure of how noticeable the colour is. Nina's works with white grades from D to J. The full scale goes all the way to Z.
Argyle's discovery of brilliant pink, champagne and cognac diamonds and their growth in popularity has changed that perception forever. These days, the richer the colour, the higher the price the diamond will fetch. An intense Pink diamond can be up to 20 times more valuable than the equivalent white diamond.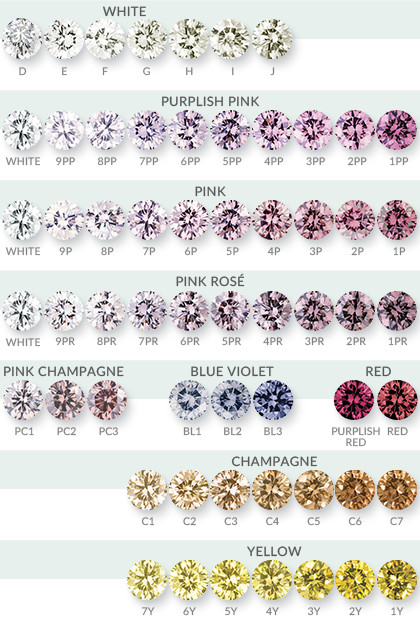 cut
THE CUT OF A DIAMOND IS NOT JUST ITS EXTERNAL SHAPE, A POLISHED DIAMOND'S BEAUTY LIES IN ITS COMPLEX RELATIONSHIP WITH LIGHT.
The best cut diamonds are those that reflect the greatest amount of light allowing the stone to sparkle and radiate its natural beauty. This can only happen with the hands of a highly skilled craftsman.

When light strikes a diamond, about 20% is reflected off the surface. Of the light that enters, the cut of the diamond determines the amount of light that reflects back out of the crown to shine and sparkle. A well cut diamond will have each facet properly placed and angled so as to maximise that reflection. In the diagrams three common light patterns are shown. When light meets any facet of a diamond, it will either reflect (bounce back) or refract (bend while passing through the facet). The angle that the light hits the facet determines whether the majority of light reflects or refracts, which is why cut is so important.
Nina's use the GIA Cut Scale - which ranges from Excellent to Poor.
A diamond's proportions affect its light performance, which in turn affects its beauty and overall appeal. Diamonds with fine proportions, symmetry, and polish optimise their interaction with light, and can command a greater price.
certification
THE SUMMATION AND CONFIRMATION OF THE 4C'S OF A DIAMOND IS THE CERTIFICATION.
It is through a diamond's certification that you can be sure of it's precise characteristics, and make your purchase with confidence.
Nina's diamonds over 0.5 carat are certified by the Gemological Institute of America (GIA). Established in 1931, the GIA is the world's foremost authority in gemology, not only having developed the first internationally accepted Diamond Grading System but also the revolutionary "4Cs" of diamond value (carat, color, clarity, and cut). With its Head Office in New York, the GIA's experts impartially assess each gem and document its unique characteristics. This provides an objective opinion regarding the quality of diamonds.
The GIA's reputation, and an accompanying GIA Diamond Grading Report, ensures that a decision to invest in a Nina's diamond can be made with peace of mind.
You can find more information about the GIA and certified diamonds here.
cost
PERHAPS THE MOST IMPORTANT CONSIDERATION IS YOUR BUDGET.
All of the four C's will have an effect on the cost of your diamond and Nina's wants to make sure you get the one that is right for you. We think that selecting your diamond should be exciting and we don't want you to feel overwhelmed. We would love to help you prioritise the 'C's so you can find a diamond you will love, without blowing the budget. Call or email us whenever you're ready.