The Argyle mine is responsible for some of the most beautiful and brilliant pink diamonds in the world today. But even among these high-quality stones, there are some that shine above the rest – namely, the Argyle Pink Diamond Tender stones.
Every Argyle Pink Diamond Tender stone is exceptional. In this post we discuss this collection of ultra-rare diamonds and show you some examples of their fascinating history.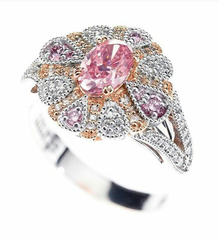 What Is the Argyle Pink Diamond Tender?
The Argyle Pink Diamond Tender is a collection of 50 to 65 of the most rare and exclusive Argyle pink, red and blue-violet diamonds. Hand selected each year, these diamonds embody rarity, beauty, and absolute brilliance.
Only shared with Argyle select ateliers, such as Nina's – a majority of these diamonds are so rare that they never reach the open market. Coveted by many, but owned by few; these diamonds are bought by royalty, movie stars, diamond collectors and the world's biggest jewellery houses at the most exclusive diamond sale in the world - the Argyle Tender.
Photographed to the right, view Nina's Argyle Diamond masterpiece - the Peony Tender stone.
How rare are Argyle Tender Stones?
To understand just how rare and desirable an Argyle Tender stone can be, you'll need to understand their history.
The Argyle mine produces between 90% of the world's pink, red and blue-violet diamonds, and is one of the only sources in the world.
The first tender took place in 1984 with 33 stones weighing just over 18 carats. Never before had such a collection of pinks been seen together. It created a sensation in the world of diamonds.
Only 50 to 65 of the most extraordinarily rare coloured diamonds are offered within the Argyle Tender. The Argyle Pink Diamond Tender makes up less than 0.01% of the mine's production each year.
Prices for these diamonds can exceed millions of dollars per carat. Connoisseurs, collectors and luxury jewellers are invited to place sealed bids on the diamonds.
Tender viewings are held around the globe with past tenders having travelled to Antwerp, Geneva, London, Tokyo, Singapore, Mumbai, Sydney, Shanghai, Beijing, Hong Kong, New York and Copenhagen.
The Argyle diamond mine's ore body is being depleted, and the mine is likely to close by the end of 2020, which will eliminate about 90% of the world's pink diamond supply, and is expected to increase the rarity of pink diamonds amongst investors.
Coloured diamonds make up no more than about 1% of the Argyle diamond mine's production each year.
Unrivalled among other diamonds for their incredible natural characteristics and inherent beauty, these unique diamonds are formed in the great wilderness of The Kimberly, Western Australia. The Argyle Pink Diamond Tender is the most valuable collection of coloured diamonds in the world, with just a few dozen chosen each year.
As a select Argyle pink diamond atelier with the highest level of diamond certification from GIA, view the Nina's collection of natural, ethically sourced pink diamonds.
The most valuable Argyle diamonds
Argyle Alpha & Argyle Muse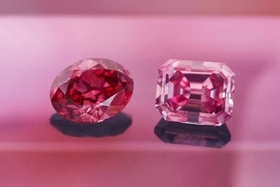 One of the largest vivid diamonds was foundin 2018 and offered as an Argyle Tender stone. The vivid pink "Argyle Alpha" diamond is a record-breaking 3.14 carats in size. First shown in Sydney and then flown to Hong Kong and New York, its sale has not yet been recorded. This diamond can be seen on the right of the above image.
The diamond to the left is the 2.28 carat Argyle Muse, a fancy grade, extremely vivid purplish-red diamond, one of just a handful of red hued diamonds in the world. This diamond sold for an estimated $10-15 million USD in the same year.
The Argyle Jubilee
Whilst renown and coveted for its size and lustre, the Argyle Alpha is not the largest pink diamond in Argyle history – that title goes to the Argyle Pink Jubilee, a 12.76 carat diamond found in 2011. This diamond was donated to the Melbourne Museum in 2012.
The 2019 Argyle Pink Diamond Tender is now available for viewing.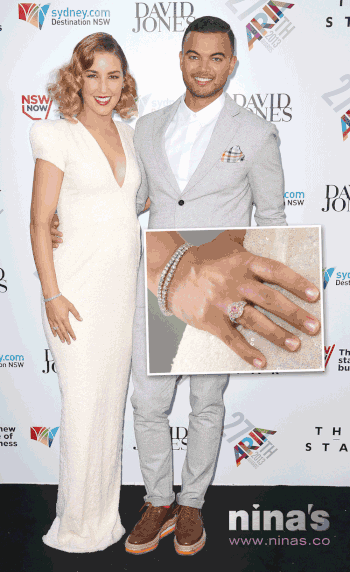 Argyle diamonds in Jewelry
Showcasing Nina's Tender stone – The 'Argyle Peony' Tender stone
First created for Jules Egan, who wore it in 2013 to the ARIA Awards, which she attended with her husband Guy Sebastian. The Peony Tender stone is an oval cut, fancy intense pink diamond, from the 2013 Tender.
Priced over four hundred thousand Australian dollars, the ring incorporates a complex pattern of diamonds and multiple precious metals, surrounding The Peony Tender stone, which weighs in at 0.60 carats.
Today, the Argyle Tender stone is back at Nina's, and is regularly moved between our Kununurra store and the Dunsborough showroom – housed in a secure display which allows our customers to come in and see this rare jewel for themselves.
If you would like to get a peek at The Peony Argyle Tender stone, visit our Kununurra store during April - September, or our Dunsborough store from October- March.
At Nina's Jewellery, we work with Argyle diamonds of various grades – and all of them are truly breathtaking. Whilst not everyone can afford an Argyle Tender stone, we can help you find an Argyle pink diamond that works within your budget and is perfect for you.
To find your piece of pink, contact one of our GIA certified Diamond & Design Specialists now