Like a glass of champagne, champagne diamonds are an excellent choice to celebrate life's special moments!
Whether it's a wedding, a birthday, an anniversary or simply a gift to yourself, champagne diamond jewellery can add sparkle and significance to many events.
Picture a golden summer afternoon, a dusky sky over the Kimberley, the colour of the sand just before sunset... The champagne diamond is versatile and romantic, available in as many shades as there are colours. Its golden facets are perfect for adding a hint of warmth to most skin tones, making it the perfect stone to embrace a bit of coloured sparkle.
Wondering where to start with buying champagne diamonds? Our coloured diamond experts have put together the ultimate champagne diamond buying guide updated for 2023.
What are champagne diamonds?
Champagne diamonds are formed naturally and are called champagne diamonds because of their lovely yellow and brown colouring.
Many champagne diamonds are mined right here in Western Australia at the Argyle Diamond Mine, renowned for producing some of the world's most beautiful pink diamonds. In fact, champagne diamonds are a staple of the mine, comprising 80% of the mine's production.
These diamonds range in shade from a light champagne colour to a darker brown-orangey hue. Compared to other coloured diamonds, champagne diamond shades are generally earthier in tone, perfect for people with an affinity to nature or who like the golden sparkle of a topaz.
The Argyle champagne diamond offers a dazzling choice of colour tones ranging from yellow to brown hues. Many of these stones feature (up to three) secondary hues, including pink, orange and yellow. It is this remarkable palate of colours that inspires designers to play with these precociously beautiful stones, coming up with truly unique and mesmerising creations.
Take, for example, this Champagne Bubbles dress ring with a mix of white and champagne diamonds. Or minimalist champagne diamond stud earrings which imbue the wearer with an understated but unmistakable style.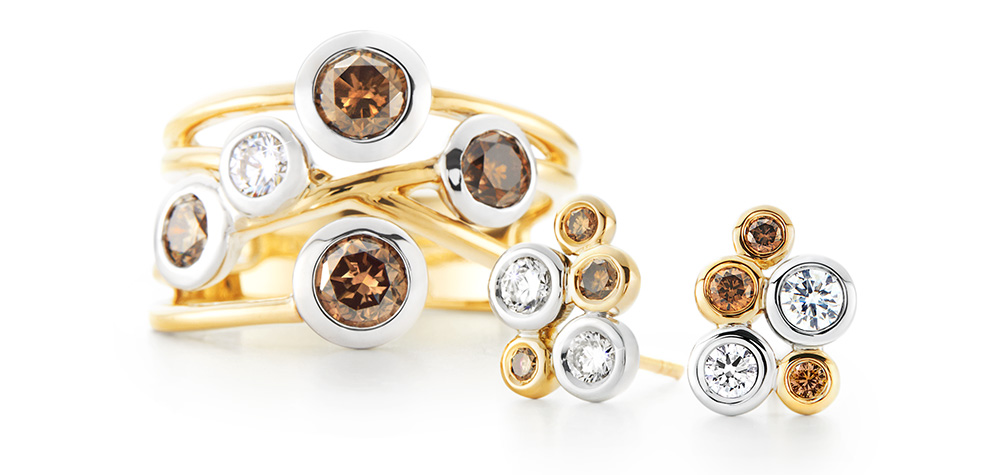 Are champagne diamonds rare?
Champagne diamonds are generally less rare than colourless diamonds and other coloured diamonds like natural blue or pink diamonds. Because of this, they are often less expensive than other fancy coloured diamonds.
That said, as with any fancy coloured diamond, the price will depend on the tone of its colour, its clarity, and its carat weight.
What should you look for in a champagne diamond?
Just like with white or other coloured diamonds, the same considerations apply when buying champagne diamonds: colour, cut, clarity, carat, and shape. For the champagne diamond, however, the most important factor is colour.
If you can, try to obtain a GIA certified stone. This certification is not always available, but a certified stone will confirm the features of your stone. This aside, however, the most important way to guide your purchase is to find a stone you love, a stone that sparks joy, and makes you happy.
Colour
When jewellers look at the colour of a champagne diamond, they often refer to the hue, tone, and saturation.
Hue refers to what colour the diamond is while tone means how dark the colour of the diamond is. The richer and darker the tone, the more highly valued it is. Saturation refers to how strong and rich the colour is.
Generally, naturally coloured champagne diamonds with darker shades and richer intensities are valued more highly.
The Argyle Mine and GIA have different grading scales for champagne diamonds that take into account their hue, tone, and saturation.
The Argyle Mine grading scale for champagne diamonds may describe them as:
Light Champagne: C1-C2
Medium Champagne: C3-C4
Dark Champagne: C5-C6
Cognac: C7
The GIA grading scale for champagne diamonds actually uses colours other than "champagne" to describe the intensity of the diamond colours. These may include:
Grades K to M: Faint Brown
Grades N to Q-R: Very Light Brown
Grades S-T to Y-Z: Light Brown
Depending on their tone, diamonds outside of the D-Z scale may be graded as Fancy Light Brown, Fancy Brown, Fancy Deep Brown or Fancy Dark Brown.
Cut
The cut of a white diamond is a critical factor that has a direct effect on its brilliance or sparkle. A coloured diamond's cut should instead maximise the diamond colour's intensity.
While their crystalline structure adds an extra layer of difficulty to cutting the diamond, when champagne diamonds are expertly cut, they possess a truly stunning beauty.
Both square and round cuts are often a popular choice which can show off the champagne colour of the diamond. Alternatively, heart-shaped cuts are usually not recommended because reflected light may create an uneven tone.
Clarity
Finding a diamond with higher clarity is desirable. But if the champagne diamond you like is darker, clarity may not be as important as the colour of the diamond may hide most of these imperfections.
Champagne diamonds are graded similarly to colourless diamonds when it comes to clarity:
Internally Flawless (IF)

Very Very Small Inclusions (VVS1 and VVS2)

Very Small Inclusions (VS1 & VS2)

Small Inclusions (SI1 & SI2)

Inclusions (I1 & I2)
How much do champagne diamonds cost?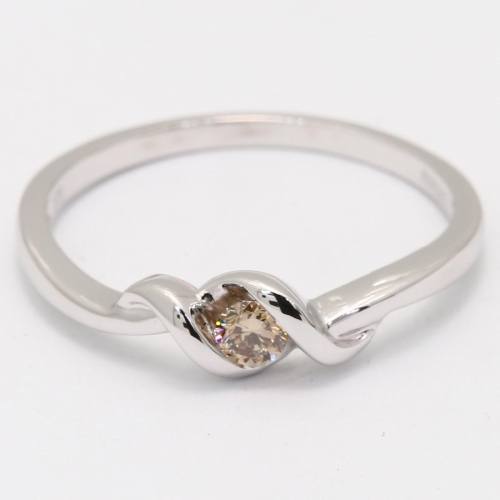 Because champagne diamonds are more common than other kinds of diamonds, they will usually have lower price tags than colourless, pink, and some other coloured diamonds. The prices are still dependent on colour and size, but they will usually cost less than other diamonds of the same shape and size, which makes them perfect for those on a budget who are looking for a coloured stone.
This champagne diamond promise ring, for example, is one of our most popular choices for those looking to purchase a champagne diamond.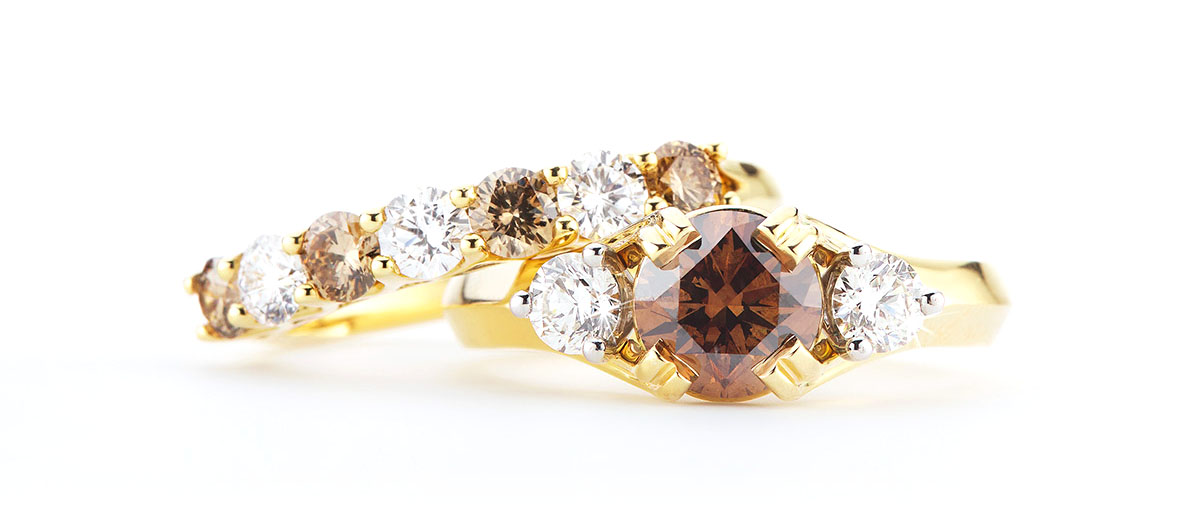 Can champagne diamonds be used in engagement rings?
Yes! Perfect for fashion-forward brides-to-be, champagne diamond engagement rings have plenty of personality and are often a distinctive and modern statement piece.
Thanks to celebrities like Halle Berry and Jennifer Lopez wearing champagne diamond engagement rings, they have also been steadily increasing in popularity!
The most popular setting for a champagne diamond engagement ring is a solitaire, allowing the unique characteristics and hues of these special stones to take centre stage. Alternatively, a three-stone setting, flanking the champagne hero stone with whites or other champagnes creates a truly eye-catching look.
The colour choice of the ring's metal will depend on each individual diamond. That is because white gold can make a lighter-coloured stone seem flawed, yellow gold might be too intense for a richer-coloured diamond, while rose gold has been known to bring out the green tones in some champagne diamonds.
The attractive market prices together with the exquisiteness of these stones have certainly started to have an impact on their popularity for use in engagement rings. Many people searching for the unique beauty of a coloured diamond for their engagement ring which is also competitively priced, often choose the distinctive and appealing look of a champagne diamond. With a range of colours available from the lightest straw through to rich chocolate brown, fiery oranges and honey hues, there's a champagne shade to suit every taste.

Champagne Diamond Jewellery at Nina's
If champagne diamonds have stolen your heart, take a look at Nina's selection of champagne diamond jewellery, from earrings to diamond rings. Because with Nina's you can be sure that you are always dealing with natural and ethically-sourced champagne diamonds of only the highest quality.
Need more guidance? Contact our team of coloured diamond experts today.