Love is in the air …and so are engagements!
If you're thinking of popping the question this festive season or even in the new year, here is a guide to finding the best engagement ring for your soon-to-be other half.
What type of stone should you buy? What kind of ring design should you get? Never fear, you've come to the right place to discover what the key fashion trends are for engagement rings this year.
An engagement ring both of you will love
If you're reading this, you're probably going to ask a lucky someone that very special question. Or perhaps the both of you are planning to go engagement ring shopping together. Either way - congratulations on taking this next step in your relationship! It's an exciting time - shopping for an engagement ring is just the sparkly icing on the cake!
So you've decided on a diamond. But did you know there are over a hundred types of diamond colours you can choose from? They range from clear white and bluish white, to coloured stones of pink, green, yellow, champagne...the list goes on.
What cut does she like? What type of metal should you choose - yellow gold, white gold, rose gold? And a question many bride's friends may ask - how many carats?
All things aside, the most important thing is to get a stone and ring design both you and your partner will treasure. Something that will make her (or him) say YES! And that's where we come in. Connoisseurs of all things diamond, if you want to find the perfect ring, why not consult an expert?!
In the meantime, here's a guide to help you choose the perfect engagement ring. In this article we will fill you in on the key trends of 2020, what engagement rings people are loving and why.
What's trending in engagement rings?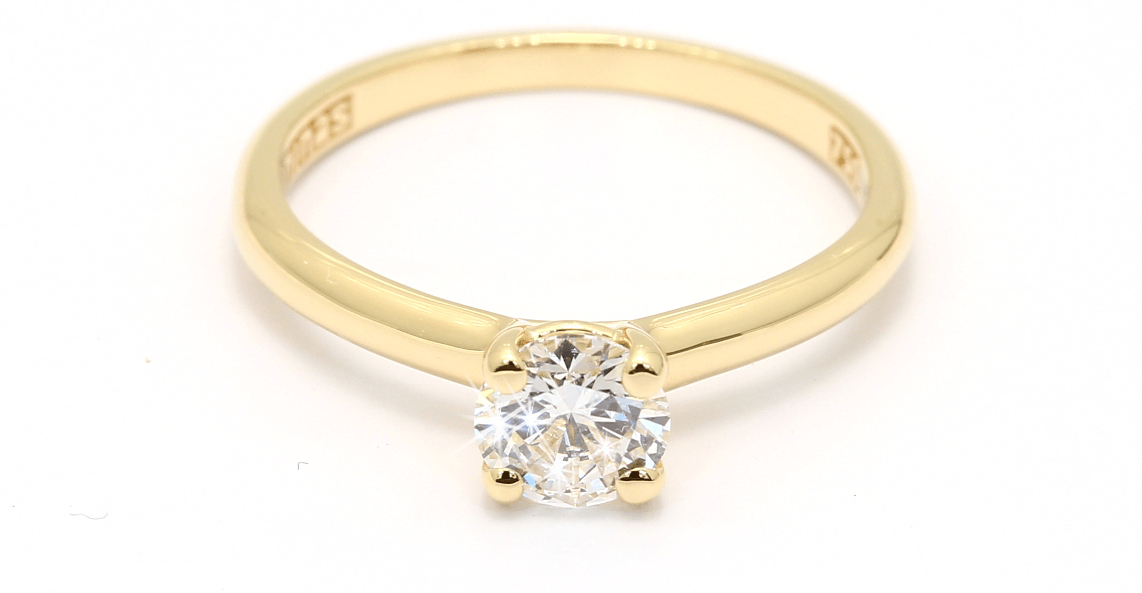 Classic and chic, solitaires are making a massive comeback. They are the original engagement ring and have been used as a symbol of intended marriage since the 1400s. Centuries have passed, and although solitaire engagement rings have always been popular – they have taken a backseat early in the 2000's with the huge range of more "exciting" styles taking centre stage. 
But not anymore! High quality, singularly showstopping centre stones are now preferred by many brides-to-be. Choose a fancy cut diamond, such as marquise or pear shape, for something more unique, or a timeless brilliant round cut for universal appeal. Browse solitaire diamond engagement rings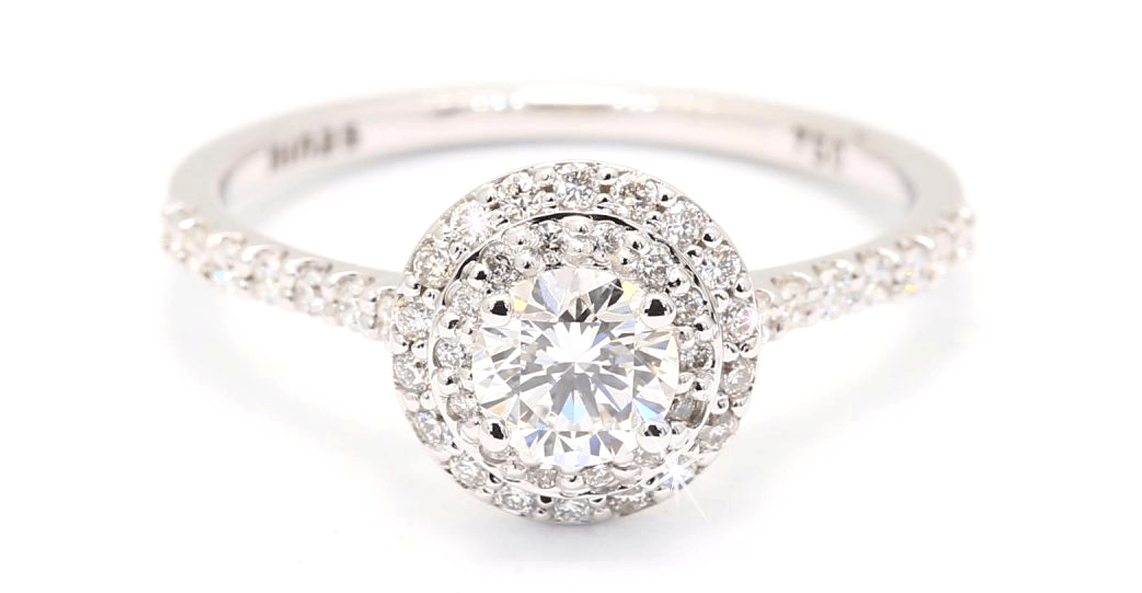 Like an angel, the halo ring is set to shine. It includes a centre gemstone surrounded by pave, or micro-pave diamonds – a style that is designed to catch the light and draw everyone's gaze, as well as give the illusion of a larger centre stone - great if you are on a budget!
The halo engagement ring was first introduced in the 1920s in the Art Deco period, and still remains one of the most popular styles 100 years later. Halo rings don't have to be circular, and the halo can actually be created around any design – ovals, squares, and so on. You can have a white diamond in the centre, and colours around it; or vice versa. The options are endless. Browse halo diamond engagement rings

Three stone rings are also known as past, present and future rings and are starting to gain in popularity, making them a key favourite in the engagement ring market for 2020. As the name suggests, they represent the couple's past, present and future, with a centre gem that is accented by two diamonds, or other gemstones, on either side.
Keep an eye out for this style of ring as we move into the New Year – you'll likely see them with unique accent gemstones, like baguettes, trillions and pears; all set on elegant, thin bands. Browse three-stone engagement rings
If you want to add a little uniqueness to the engagement ring, clusters have been stealing the show as the choice of the modern bride.
A cluster ring is either a large centre stone that is surrounded by a group of stones of equal size; or a number of smaller diamonds that are set closely together. It's common to see them in the shape of flowers or starbursts. They provide a full dimension, giving the appearance of a larger centre stone, but they are a lower cost option compared to a large diamond. So if you're on a budget, clusters could be a great option for the bling-lover. Browse cluster diamond engagement rings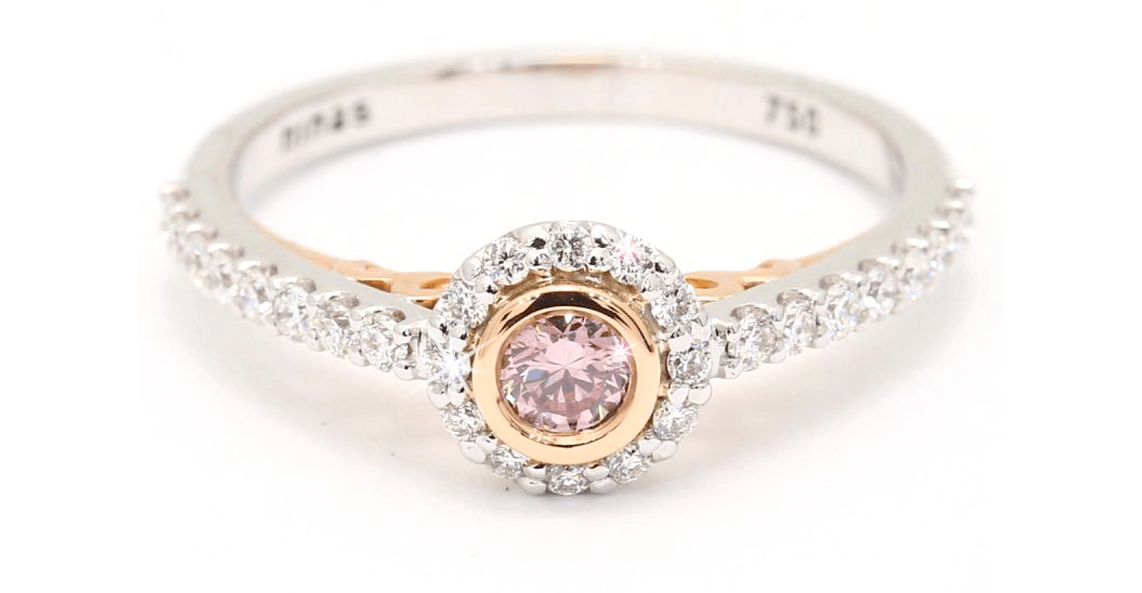 The white diamond will always be an engagement ring classic, but for 2020, coloured diamonds are making an engagement ring comeback as more couples are choosing truly unique stones. Champagnes, pinks and yellows are popular engagement ring diamonds for people who want something a little different. 
In colour psychology, yellow represents honour, joy and radiance. As an engagement ring, a yellow diamond may represent the continued strengthening of a relationship, evoking a sense of optimism and joy. Browse coloured diamond engagement rings
On the other hand, nothing says, 'marry me' more exclusively than a pink diamond. Amongst the rarest diamonds in the world, pink diamonds convey emotions of sweetness, happiness and creativity. The Argyle Pink diamond, mined in one of the most beautiful and far-flung corners of the world in Western Australia, is the choice of a true romantic. Browse pink diamond engagement rings

How to choose a ring design
When deciding on the right engagement ring design, don't forget two of the most important factors: 1. often the perfect design will reflect the personality of the one you love, and 2. the design of the ring should suit the shape of her hands.
Remember that everyone has different taste, and finding a ring that you like doesn't automatically mean it will be a ring she loves!
Nina's can help you find the perfect engagement ring
When it comes to choosing just the right engagement ring for the love of your life, Nina's is the best in the business!
With over 50 years in the jewellery industry, we know everything there is to know about diamonds and diamond jewellery. We can assist you to choose a ring she'll love. The fact that one of our showrooms is located just two hours from the Argyle diamond mine in Western Australia gives us local knowledge about our coveted natural Australian diamonds, and allows us to handpick the stones we sell. Our stunning designs show off each diamond to its absolute sparkly best!

If you're looking for something truly unique, get in touch with our GIA certified Diamond and Design Specialists so you can create a one-of-a-kind ring that will suit your style and budget.